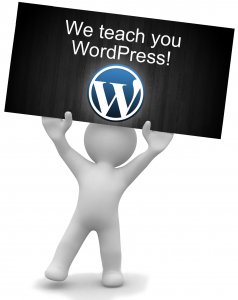 We offer both virtual courses with live webinars and small in-person sessions where we can offer you personalized attention while you learn the latest version of WordPress – even while you work on your own website. We provide custom-learning by gearing each session to the students who attend so no two sessions are the same!
IMPORTANT: Our classes are designed for self-hosted WordPress websites (aka WordPress.org) and not those hosted on WordPress.com. If you're not sure of the difference, please read our comparison article.
All in-person classes are held in the South King County area of Washington State.
Prerequisites for ALL paid classes*

laptop or tablet with WiFi capability
pre-purchased domain name and web hosting – see our Resources page for hosting company recommendations
latest installation of WordPress

*When you sign up for a class you'll get a step-by-step guide to help make sure you're ready for the class.
Introduction to WordPress –
FREE Webinar!
This 1-hour introductory session is for those who are brand new to WordPress and want to see if it will meet their needs.
It's designed for people who have never had a website before, people who want to find out more about WordPress, and people who have a website, but don't feel like they have the tools or the knowledge to manage it on their own.
Best of all, you don't have to be a techie or a computer expert to attend! I promise to go over all the information in every day language and answer all your questions, too.
We'll cover
Why you should use WordPress to develop your website.
Which version of WordPress you should choose: WordPress.com or WordPress.org (aka self-hosted)
Where to find a theme design you'll love…and how to change it if you change your mind.
How to make sure your website will work well on computers, tablets, and phones.
And, of course, all the details on how to sign up for my next online or in-person classes.
[registration coming soon]
Online Course Series
Create Your Own WordPress Website
Take control of your own blog or business website! The Create Your Own WordPress Website is a deluxe series of lessons  that features 6 weeks of 1-hour online webinar training sessions and includes a 6-month backstage pass to a private members-only area full of step-by-step videos, audios, printable handouts, and step-by-step assignments. Students also have a private forum where they can interact, post previews of their work, and ask and answer questions.
The 6 week program takes you through all of the processes to create your own website using the self-hosted version of the WordPress software. You will learn how to create a blog and an easy to update website that works well on computers, laptops, tablets, and phones. This important capability helps your website appear higher in Google's search results than those who aren't 'mobile friendly.'
This is a very interactive visual program with videos, audios, PDF handouts, and step by step assignments.
Suitable for teens and tweens!
[registration coming soon]
In-Person Classes
Up and Running with WordPress –
$99
This 2-hour mini class is for both those who are just beginning and those that have already setup their WordPress website and need a little more help. We cover installing WordPress, setting up the dashboard, installing and changing themes, essential plugins, working with widgets, blogging best practices, and more.
[registration coming soon]
WordPress Intensive Day –
only $479 – regularly $599 – save $120!
This all-day (6-hour) class is for those who want more specialized help with setting up and customizing their own WordPress website. Students will work on the Genesis platform and receive a StudioPress premium theme of their choice (an $89 value!). Bring your own lunch. Bottled water provided.
When you sign up for this class you'll get special instructions for installing Genesis and selecting and installing your premium StudioPress theme.
[registration coming soon]
Request a private session!
Contact us to request a private session or with any questions.